RIGGED Original 9 inch Yummee Flying Fish- MADE IN USA!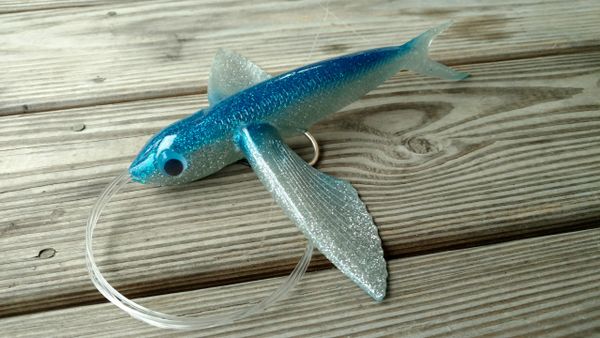 RIGGED Original 9 inch Yummee Flying Fish- MADE IN USA!
Yummee Flying fish have been called the worlds greatest Tuna lures because they catch them when no other lure will. It is also the worlds most exciting way to catch tuna because you see incredibly thrilling surface strikes. This is the original Made in the USA, revolutionary, soft plastic flying fish! Tuna are genetically programmed to instinctively chase and eat flying fish. Our Original Yummee Flying Fish is the Legendary Lure known for catching 200-300 pound "Cow" Yellowfin Tuna when all other lures and even live baits fail. It also catches giant Bluefin, Bigeye, and Blackfin tuna as well as Billfish, Mahi Mahi and Wahoo! Buy Today!  
NEW! NOW AVAILABLE COW TUNA RIGGED
-This is the custom rig made famous by those targeting 200 plus pound Yellowfin Tuna-Big Eye Tuna and Bluefin Tuna. This rig features super strong welded eye J hook, and a super strong treble stinger rigged to catch those short strikers. Use this rig only when specifically targeting the largest Tuna! 
NOTE ALL OTHER RIGS COME ONLY WITH A SINGLE J HOOK
Learn how to rig the 9 inch Yummee! Click here for the video!

Proudly Made in the USA!
WARNING:  This product is not intended for use by children under 14 years of age.

FISHING TIP(S) FROM THE PROS! 
1.  When Tuna are boat shy rig one or two of these Yummee Flying Fish under kite.  This will help you two ways, First of all unlike traditional trolling lures which must be pulled behind the boat a Yummee Flying fish under a kite can be fished down wind of to the side of the boat which will not scare spooky fish.  Using the kite also keeps your line and leader out of the water where it is less visible to Tuna which are legendary for their perfect eyesight. 
2. When Fishing the lure from a rod tip or outrigger without a kite place on Yummee Flying fish on the front side of the boats stern wave so that it rides skipping along the front side of the wave.  Then run one Yummee Flying Fish way, way, waaaaaay back off your bridge rod-this bait will often pull through waves and spring forward in the air. Both lure positions are deadly on all Tuna and pelagic fish. Also pull at least on swimming flying fish off a planer or long rigger so that it mimics a flying fish that has not yet taken flight.
3. Add in a few Yummee Flying Fish of various sizes and Daisy Chains into your trolling spread so that you have enough commotion behind your boat to provoke  even lethargic fish into striking.  Buy Yummee Daisy Chains Here!
4. When fighting other fish leave a Yummee Flying Fish out near the boat and it will often get hit also. They look very realistic even when at slow speeds.

 Yummee Fly'n Fish are trademarks. Copyright 2001-2019