Swimming Yummee Flying Fish-9 inch-MADE IN USA!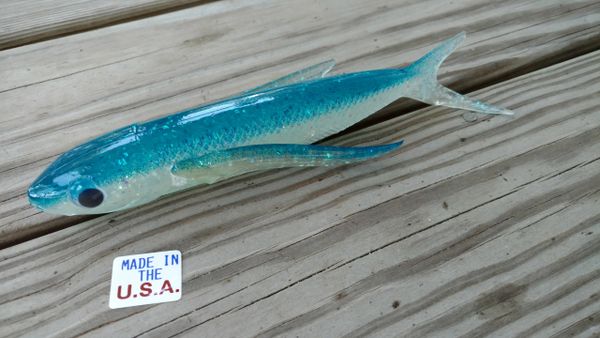 Swimming Yummee Flying Fish-9 inch-MADE IN USA!
This swimming flying fish lure is a dead ringer for a real 

Flying Fish swimming under water

. This makes it a great lure for catching Tuna and Dolphin (Mahi Mahi). When rigged with our 3 oz Chinee weight, the lure swims smoothly under the water's surface, making it perfect for flat lines or down riggers. 
Drop a couple of these Yummees below surface and listen to your reels scream as you hook up with huge Tuna. Our swimming Yummee is also a 
great chase lure
 to put behind your original 9 inch Yummee Flying Fish or Delta Wing Flyer daisy chains. Rig them on 
dredges 
to simulate a school of flying fish.
Fishing Tips: Many professionals often rig these on a flat line or off a Z-wing to simulate a deep-swimming straggler or wounded flying fish. Other anglers also use these beneath helium balloons and kites.
 Proudly Made In USA! 
WARNING: This product is not intended for use by children under 14 years of age.

Yummee Fly'n Fish are trademarks. Copyright 2001-2019