Yummee Bird-7inch Flying Fish Lure -MADE IN USA!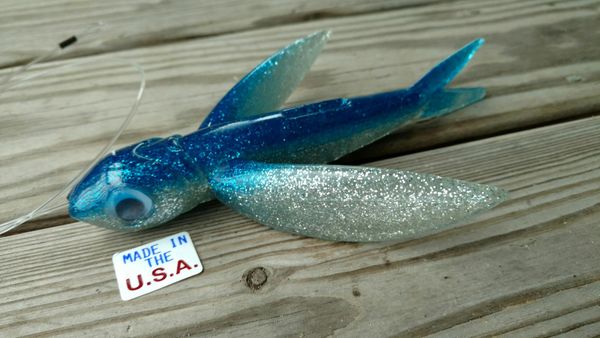 Yummee Bird-7inch Flying Fish Lure -MADE IN USA!
This 7 inch Yummee Bird Flying Fish's erratic surface action makes it a fantastic lure for both Tuna and Dolphin. This 7 Inch flying fish lure draws vicious surface strikes from all blue water species. Lure features a soft one piece body, multiple hook slots, realistic eyes and an

erratic

surface action that drives fish nuts. This lure is a great choice for use under kites or helium balloons! We also recommend casting these to catch giant 'Cow' Tuna. This flying fish has a variety of built in rigging options. The Yummees' durable yet soft plastic gives fish a natural yummy feel & taste so they hang on to the lure longer.


Learn How To Rig A 7 Inch Flying Fish To Catch Huge 200 Pound Plus "Cow Tuna" For Kite Fishing!

RIGGING OPTIONS:


1) 1 pack unrigged- $11.99


2) 1 pack rigged-$13.99

3)
New!
7 Inch Yummee Bird rigged 'Florida Keys Style.' This rig features a single hook in the belly and a Mustad 3x treble as a long trailing stinger. $16.99 1 pack

4)
New!
7 Inch Yummee Bird rigged weedless with the hook facing up. This bait will skip and fly right over the toughest weedlines drawing strikes from predators like Dolphin and Tuna. Works best over weedlines with a kite $16.99 1 pack
5)

BULK!

Unrigged-$11.59 each
Yummee Fly'N Fish are Trademarks. Copyright